From tree to table
It's as simple as… harvest, first cold press and bottle. Cobram Estate creates its award-winning extra virgin olive oil.
Our California Commitment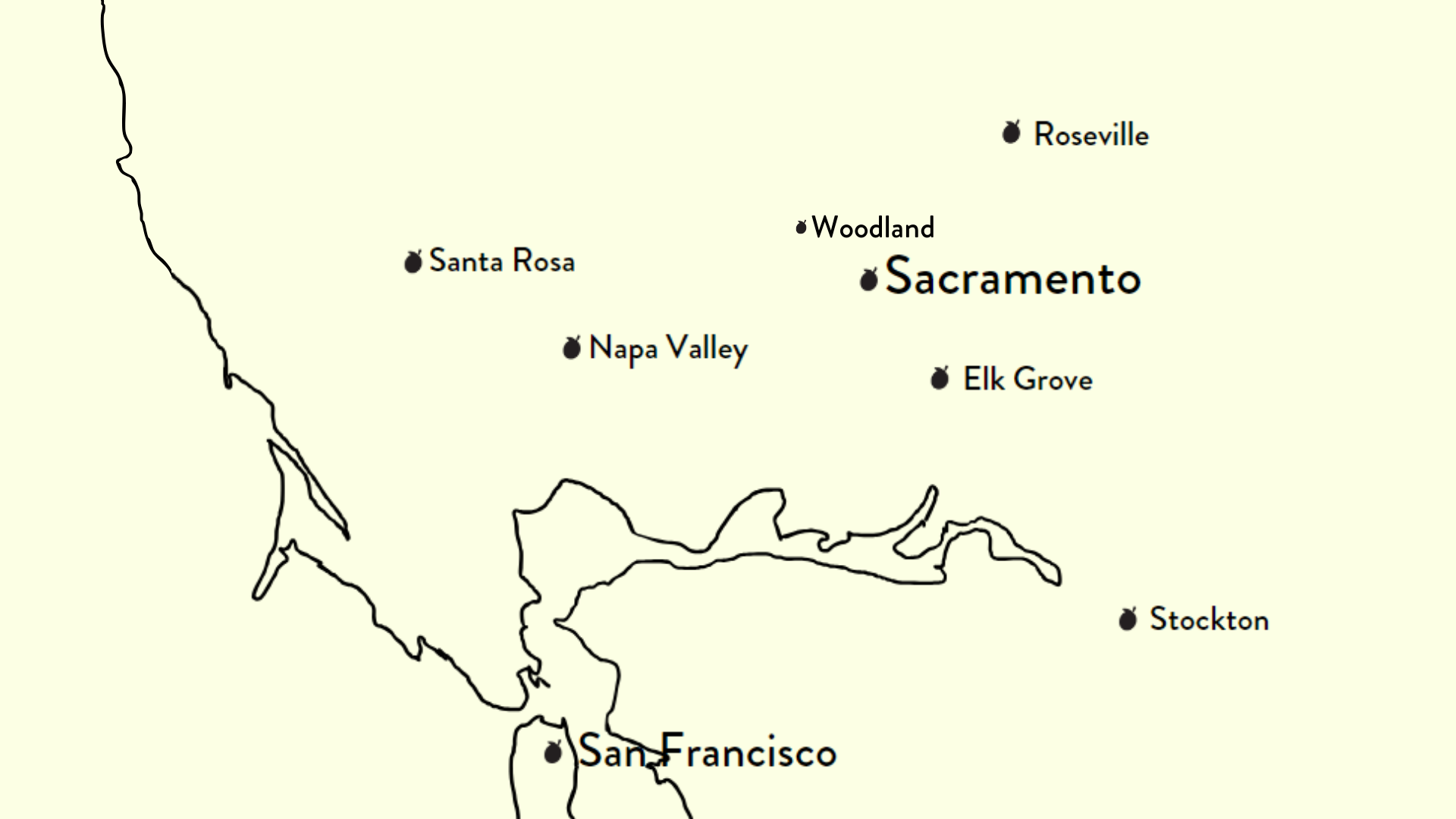 Esparto
Esparto South Ranch was planted in 2021 and is our second oldest grove. With over 250 acres, this ranch is nestled in the beautiful Capay Valley Hills. Although small, it continues to amaze us every year producing some of the most beautiful olives.
Hungry Hollow
Hollow Ranch was established in 2019. It is our second largest grove in operation and comprises of over 350 acres. Home to many of the unique varietals we grown, these groves remain a cornerstone of Cobram Estates operations.
Dunnigan Hills
Dunnigan Hills is our newest ranch. Breaking ground in 2023 we were excited to plant over 800 acres of new saplings. With careful care, in 3 years this grove will transition out of infancy and be mature enough to begin harvesting. We are excited to be implementing medium density trees with lots of new varietals unique to California.
Debo Ranch
Debo Ranch is known as Cobram Estate's flagship ranch. Established in 2015, this sprawling 120-acre property is the heart of our operation. The 25,000 trees include Picual, Coratina, Koronekiki, Picudo and Arbequina. The diversity of these trees is a reflection of our commitment to flavor and quality, ensuring that every olive sourced from Debo Ranch will become the distinct, award-winning extra virgin olive oil.
Cobram Estate HQ
Our HQ is located in the historic town of Woodland, California. Nestled the heart of the Sacramento Valley, our facility is home to our processing mill, olive oil storage facility, bottling facility, and warehouse. It is our unique location which allows us to harvest and process our extra virgin olive oil in less than 6 hours.
The Nursery
 Superior Saplings
Located in Sonoma Valley our nursery nurtures the trees from birth and selects only the strongest trees for planting. Our nursery operations ensure we start with healthy, superior olive tree saplings. With meticulous manage our nurser and select specific varieties appropriate to thrive in the region.
The Groves
Management & Operations
Following our Olive.IQ standards, we grow our trees and cultivate our groves to give them the best opportunity. Skilled grove management includes precise irrigation, pruning techniques and satellites. With sustainable and environmentally friendly practices long-term health of our olive trees and the land they grow on is prioritized
The harvest
Picked At Their Peak
Once our fruitful trees reach maturity, harvest happens at ideal ripeness. Our advanced harvesting machines Optimus and Colossus, allows olives to be picked at peak ripeness, prevent damage to the fruit and preserve delicate flavors. This results in maximum yield of premium olives and optimal oil extraction. Olives are then transported immediately to our mill within 4-6 hours to ensure maximum quality & freshest taste.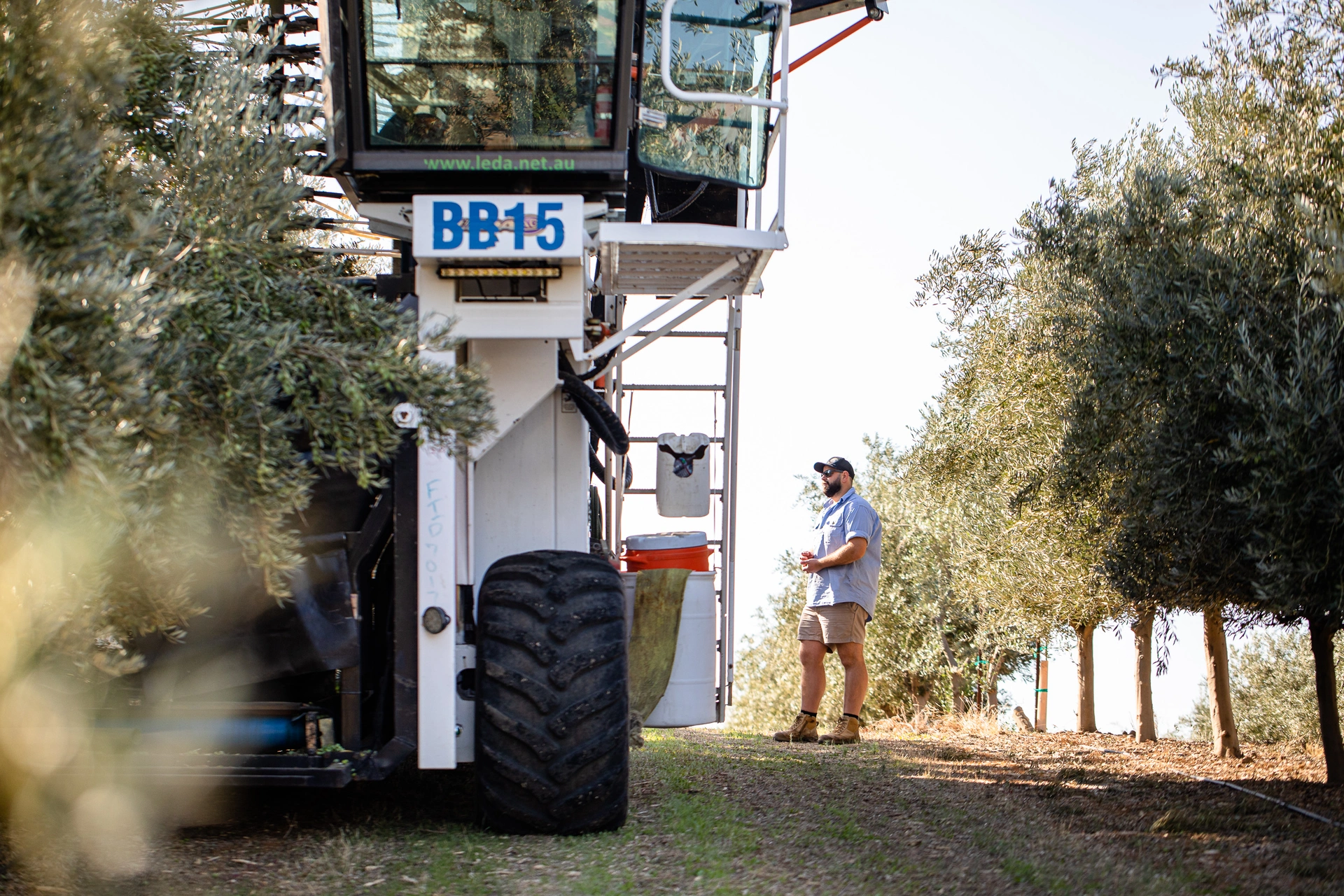 The milling
State-Of-The-Art
Fresh picked olives arrive at the mill to be immediately cold pressed, allowing us to extract premium quality extra virgin olive oil. This precious oil is then quickly transferred into our nitrogen caped tanks to maintain ultimate freshness until bottling.
THe testing
Rigorous Standards
At Cobram we test diligently during production to evaluate Free Fatty Acid (FFA) content, oil moisture content and overall quality allowing us to accurately predict the lifespan of our oil. Using this rigorous testing we are able to determine a true "best by" date for every drop of our oil. Our in-house laboratory allow us to maintain rigorously quality standards. 
THe bottling
 Purity & Integrity
Bottling within 4-6 hours allows us to maintains the purity and integrity of our extra virgin olive oil. The process includes stringent quality control checks to ensure that each bottle contains only the finest, award-winning extra virgin olive oil.
Crafting Excellence in Every Drop
Our Products