From tree to table: growing a sustainable future.
Safeguarding the health of our soil, protecting precious resources, and preserving California's agricultural legacy for generations to come.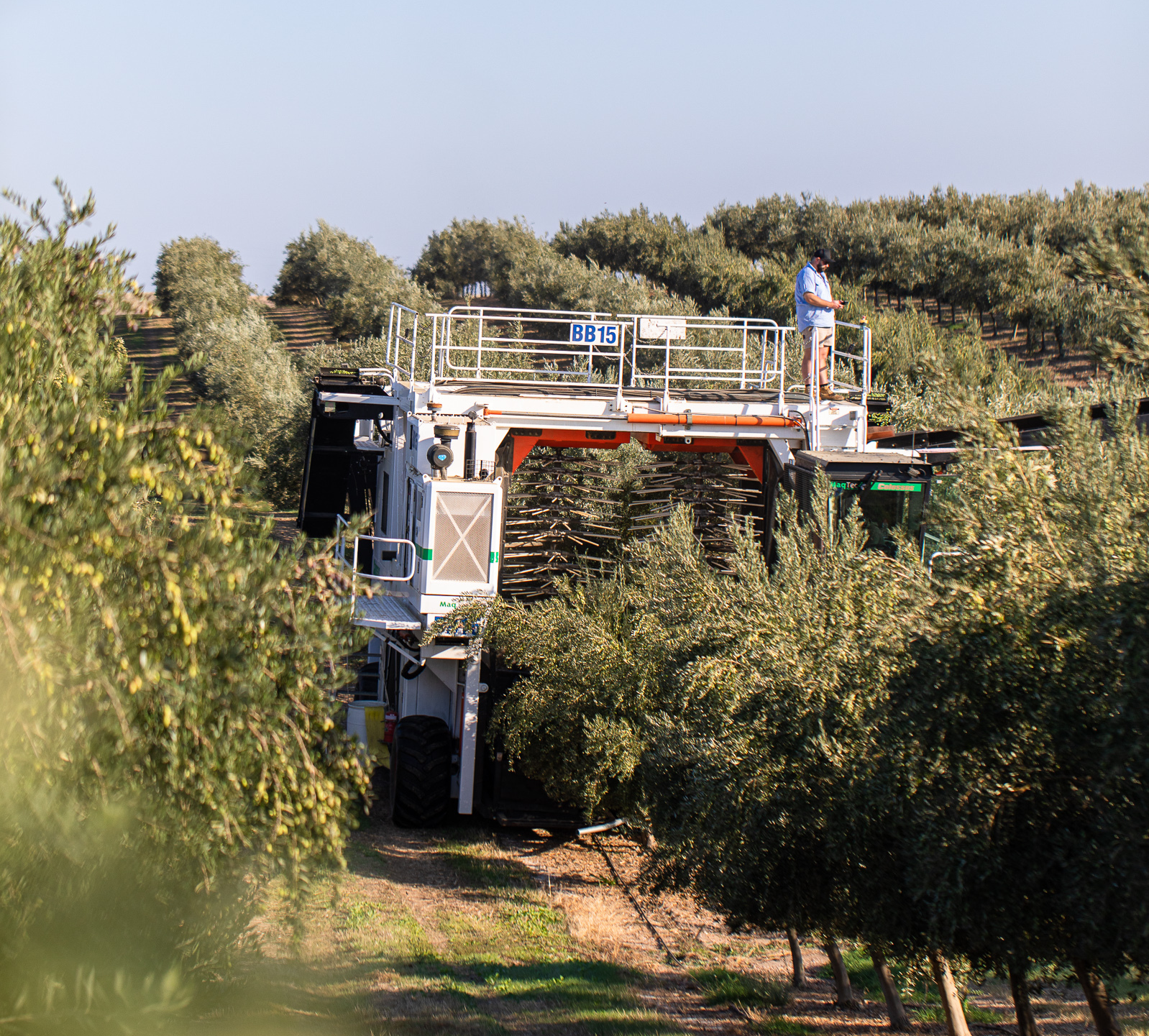 Sustainablity
How we grow Matters
In our commitment to sustainability, we remain dedicated to employing cutting-edge technologies which reflect our dedication to responsible farming practices. As producers and stewards of the land we take pride in bringing responsibly grown ingredients to the market. Being sustainable is not just about meeting consumer expectations or complying with regulations; but a proactive approach in shaping a better future. We believe in safeguarding the health of our soil, protecting water resources, and encouraging the longevity of Calfiornia's agricultural legacy.
Cobram Estate's proprietary Olive.iQ technology and smart agricultural practices enable the business to maximize production and minimize the impact on limited resources. With over 25 years of research and implementation behind the program, Olive.iQ achieves 9 times more oil per acre than the global average with a production cost per gallon 30% lower than world's weighted average! We are proud to say Olive.iQ is not only considered a global industry standard but recognized as the preferred methodology.
In addition, our state-of-the-art harvesters, Optimus and Colossus, pick and sort fruit quickly for transport while keeping the olives in their most optimal condition. We upcycle as much as we can throughout the production process to limit wastefulness including repurposing olive pomace and other organic material back into the soil as fertilizer and utilize grazing animals to minimize the need for synthetic agricultural treatments.
In 2023 Cobram Estate USA became Leading Harvest certified. Leading Harvest provides assurance programs comprised of standards, audit procedures, training and education, reporting and claim offerings that are optimized for flexibility, scalability, and impact. As an industry leader in sustainability, and created by and for all stakeholders across the agricultural value chain—we're working together to grow a healthier future and advance agriculture from the ground up.
"We believe in the collective action for better farming practices, exemplifying our commitment to responsible olive oil production and shaping a sustainable future."
Frequently Asked Questions about EVOO
Are there certification labels or standards that help consumers identify genuine extra virgin olive oil?
When you see the Californian Olive Oil Council (COOC) Seal it means the olive oil has passed the most stringent quality assurance testing and is 100% California grown. In order to achieve COOC certification, an oil must comply with requirements of both a chemical analysis and sensory evaluation. This is a great third-party certification to look for on a label when identifying quality Californian extra virgin olive oil. You can also look for Olive Oil Commission of California (OOCC) certification. Their certification allows customers can have confidence their olive oil is sourced from California.
How does Cobram Estate produce their extra virgin olive oil, from the harvesting of olives to the final bottling?
At Cobram Estate the process begins with the careful harvesting of olives using Colossus and Optimus,our state-of-art harvesters . Olives are then transported to our milling facility in less than 6 hours.  At the processing facility, the olives are cleaned and sorted to remove any mummies-older olives and other debris. The olives are then crushed, using a mechanical press the olive paste is extracted and sent to the mhalaxer to further break down. Finally, the olive paste undergoes a separation process to separate the oil from the solids and water. The extracted oil is the moved and stored in tanks, topped with a nitrogen cap to deter oxidation and to allow the remaining water and sediment to settle out. Testing will then occur to evaluate the quality of every tank. Once the oil has been tested, bottling will begin only as needed to ensure the quality and flavor remains intact. Each bottle capped again with a nitrogen top to ensure only the freshest, healthiest award-winning oil make it to shelf and to your kitchen.
Is extra virgin olive oil good for you?
Studies show extra virgin olive oil contains many healthy compounds such as Vitamin K, Vitamin E, Oleic acid, and antioxidants which can reduce the risk of chronic diseases, fight inflammation and reduce risk of heart disease.